Hello Reader, from your friend Nick in Austin, Texas.
In this issue: logos for all of the United States, how to host a great housewarming party, my secret WhatsApp group for perfect abs, the struggle of living in NYC, 3 amazing quotes, why he's the only honest man left in news, audiobook studio tour, and more fun stuff.
Why you're getting this: I'm Nick Gray and this is my Friends Newsletter. I send this every month to interesting people I've connected with and friends I want to keep in touch with. You can un-subscríbe any time and I won't be mad.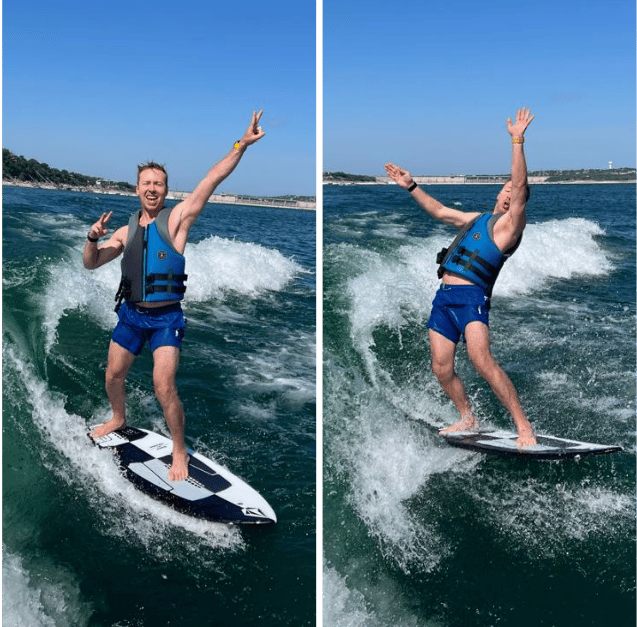 ---
Random Links
👏 How To Be Successful, by Sam Altman​
"I really liked this post on how to be successful. Even outside of success, it's a good way to live a fulfilling life." via Tynan​
🏙 The Struggle of Living in NYC
YouTube video that I enjoyed. "Everyone in their 20s should live in NYC for a year, like a tour of duty." I still miss NYC sometimes! I also love living in Austin.
🐦 Birds Aren't Real: The conspiracy theory that satirizes conspiracy theories
YouTube link to a 60 Minutes interview. Neat to learn about the guy behind the movement.
📡 Why he's the only honest man left in News
Very good YouTube video of a profile by Colin and Samir about Andrew Callaghan, a young journalist popular with the youths.
🔻 Is a Correction Near? My Current Stock Market Investing Thesis​
I wrote this article last November, I'm a genius! Just kidding: I wrote it in July 2018. If you had pulled out of growth / tech in July 2018 when I first wrote this and just went to cash for the last 4 years, you'd have missed 70% gains (QQQ from July 2018 to today) even with the huge drop over the past 6 months. I basically never sell my stocks... but I'm also down bad YTD 😅 Oh well. I'm still holding for the long run and thinking like an owner, not a trader.
🤩 How a BDC Made $31M from Commercial Ice Machines​
This is an extremely niche business article I wrote a year or two ago about debt financing, business development companies, and a commercial ice machine maker. The illustrations are fun!
❤️ Remembering Apple's Newton, 30 years on​
Blast from the past. I was a proud owner of several Apple Newtons as a middle-schooler! I ran one of the best Newton shareware websites in 1996 or 1997. Thanks to Casey for sending this.
​
---
Logos for the United States
Here are some logos for each of the 50 states in the USA, as seen on this Twitter thread: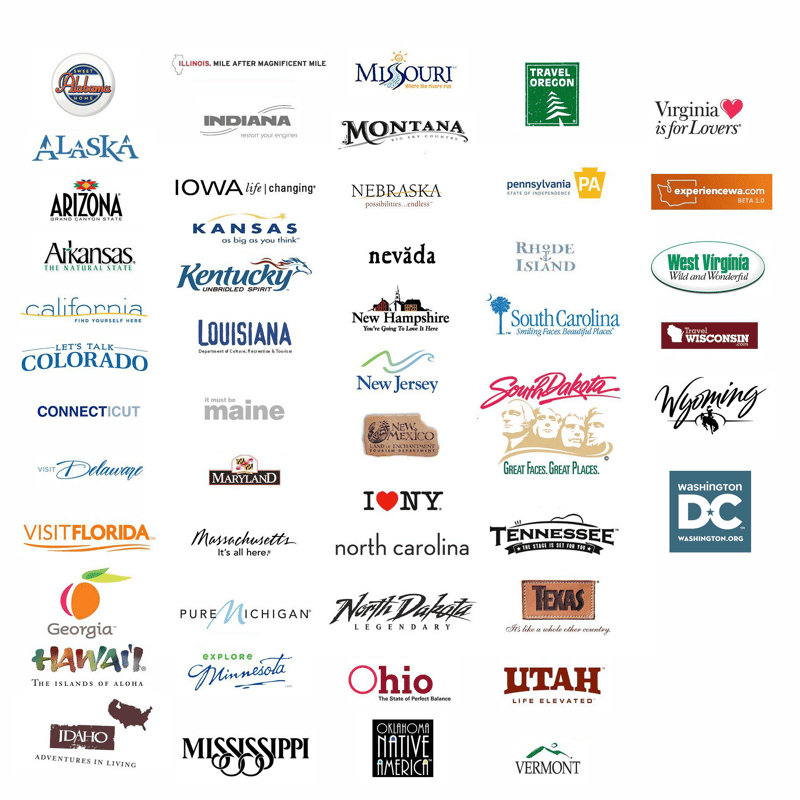 And then supposedly these are the most current ones from their tourism boards: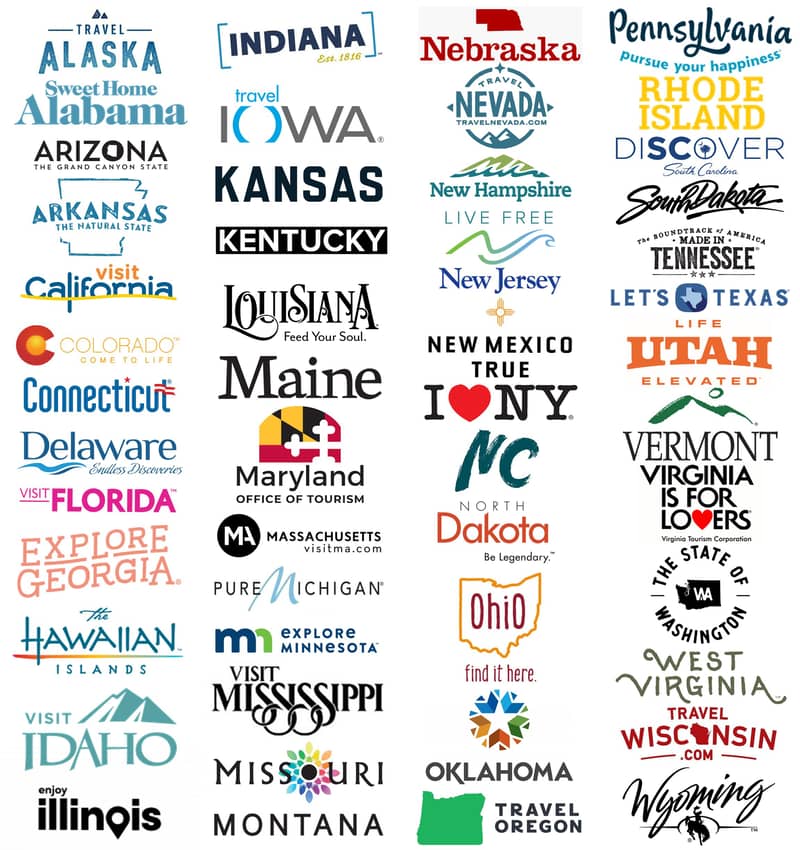 ---
Audiobook for The 2-Hour Cocktail Party
I just finished recording the audiobook for my upcoming book, The 2-Hour Cocktail Party: How to Build Big Relationships with Small Gatherings. It was so much fun! This is what it looked like in the studio: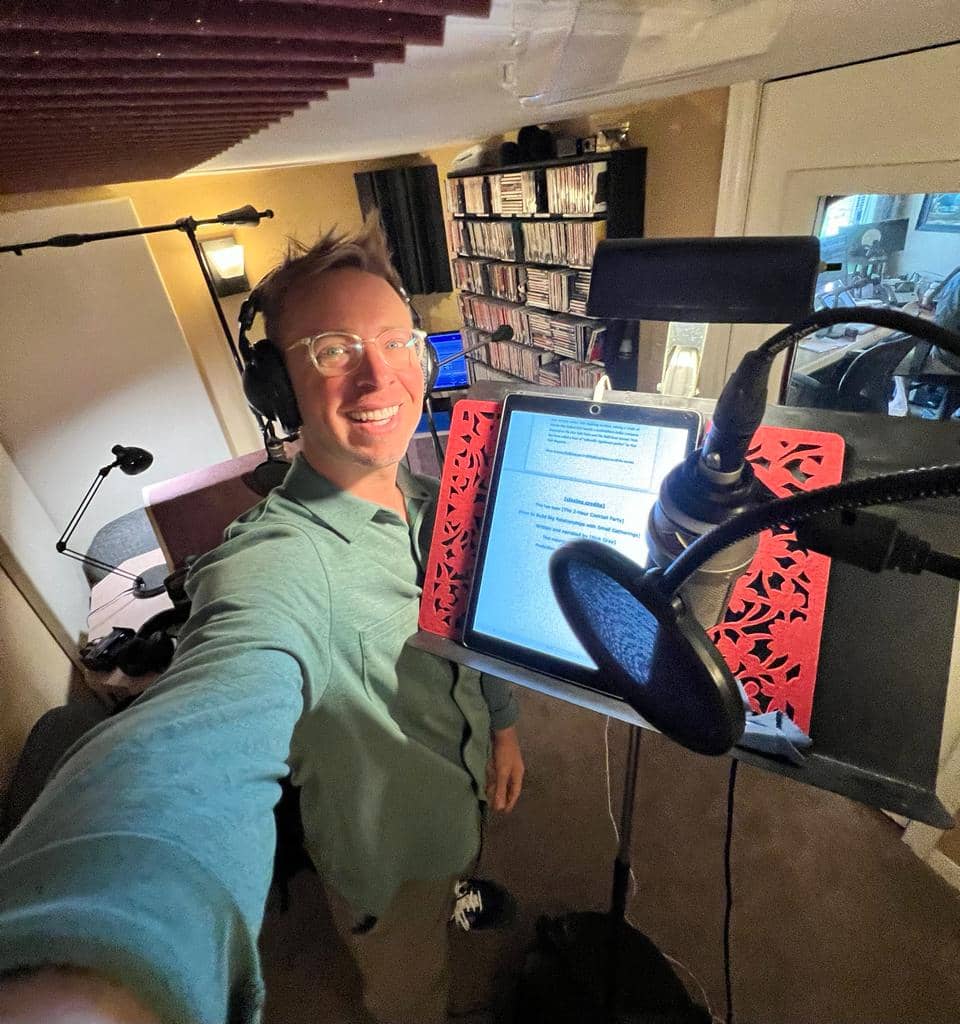 I filmed this behind-the-scenes video showing the studio, how it works, and what it was like to record the audiobook.
Here's the most interesting nugget: on the first day, everyone told me how HUNGRY I would be at lunch. They wanted to make sure I would eat, because a growling stomach is very obvious on the sensitive microphones. I didn't believe them: I had eaten a good breakfast, and how hungry could I get after only 2 hours of recording?
But, sure enough, at 12:00 PM my stomach started growling. I was STARVING! And I noticed that I was a bit exhausted and drained, too. Reading and being 100% "tuned in" for two hours must have burned a lot of calories.
My book comes out on June 14th in paperback and on Kindle, and I think the Audible will be released a month later. Now the audio files go to processing, and editing, and then get sent to Audible. EXCITING.
---
My secret WhatsApp group for PERFECT abs
I have a long-running abs accountability group on WhatsApp for my friends. It is very simple: each day you hold a plank for 1-minute. (Or 30 seconds, or 45 seconds, whatever)
Then you text the group one word: "done." That's all you can say-- nothing else.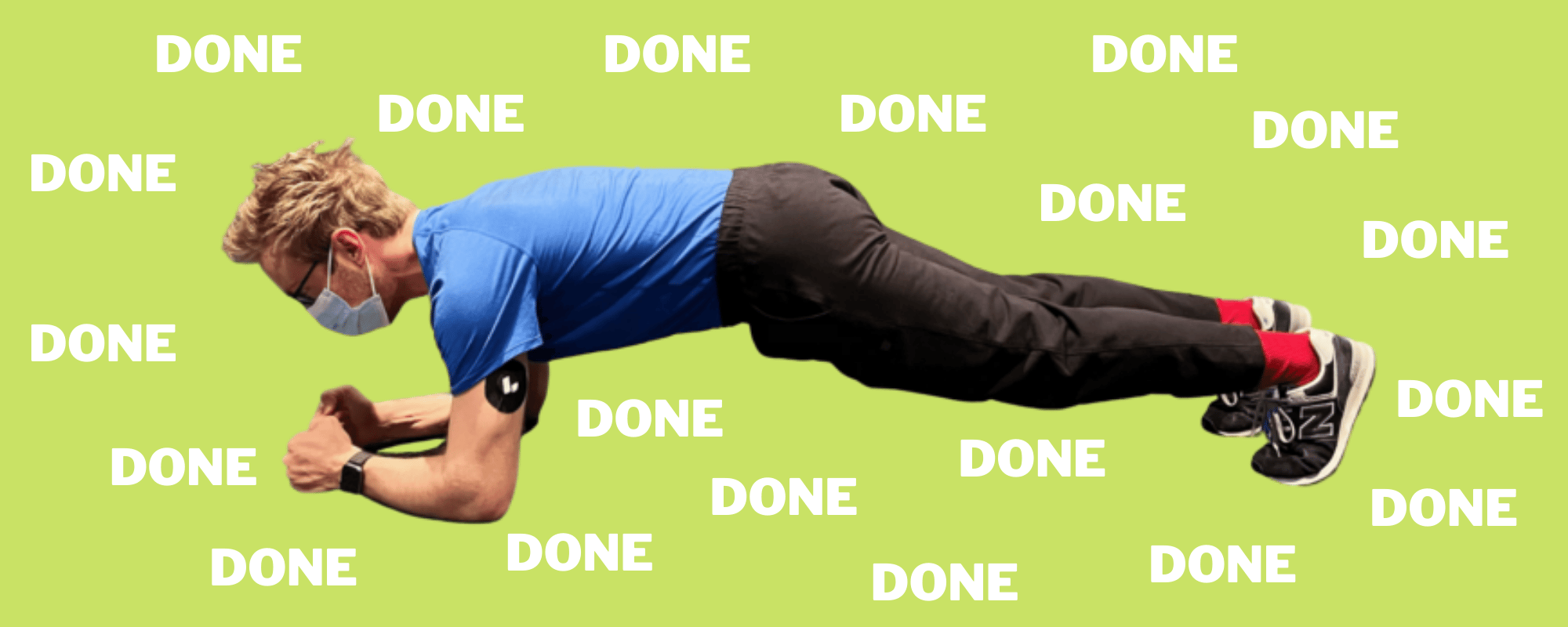 If you miss two days in a row, you get kicked out. No hard feelings. Just hard abs!
Now, I don't think I'll actually get a 6-pack from doing this. This isn't the "perfect" method for good abs. But I do feel stronger in my core, even from just holding a plank for a minute each day. And so do my friends. Baby steps.
Some people have moved up. They plank longer. Or they do crunches, bicycles, etc. But the idea is the same: just do it, then say done. Every day.
I'm starting a new group chat for June 1st now (that's today!). If you want to join me and my friends, and take a 1-month challenge, reply back to this email and say Hi. I will add you. No cost, nothing for sale, just a friendship accountability club.
If you can't hold a plank for even 45 seconds... that's OK! That is very normal. You can start with 30 seconds. Move up when that is too easy. Come join my 30-day group challenge, it will be fun. We can all do it together!! Email me back.
---
Want to host a housewarming party? I'll help you!
Do you want to host an amazingly successful, fun, easy housewarming party? My party book is PERFECT for this. Let me send you a free copy.
I will send you an advanced reader copy of my party hosting handbook. If you live in the USA, and if you're willing to host a party in 2-5 weeks from today, reply back to this with your USPS mailing address. Or, if you're not sure, I can just send you a PDF. I have 10 remaining copies of my manuscript that I can send out today or tomorrow. I will ask you to read the first few chapters, and if you like it, then host a party. The whole party can be done for under $100 of supplies costs including drinks, snacks, and name tags.
Also: do you have a blog or newsletter? Or a podcast that has show notes and lots of active listeners? If yes: Can I send you a copy of my manuscript? And if you like it, interview me for your newsletter or podcast? Reply back and say Hi and send me your mailing address. USA only (or I will send digital international). I will tell you how I can help your readers or listeners, just like I helped Noah connect with 20+ people in his small Chicago apartment, or Dan and his wife meet their neighbors.
---
Quotes
"To collect taxes, Christian IV of Denmark asked captains of ships crossing the Øresund to estimate the value of their cargo, which was applied as the tax base without further audit. But the king also claimed the right to buy the entire cargo at exactly that price."
​ -- Paul Hünermund on Twitter
"As you become an adult, you realize that things around you weren't just always there; people made them happen. But only recently have I started to internalize how much tenacity everything requires. That hotel, that park, that railway. The world is a museum of passion projects."
​-- @collision on Twitter
"You know when someone is super passionate about something and their eyes light up?? All I've been doing for my entire adult life is following people that have it and it's never really let me down."
-- @hiangelali on Twitter
---
The End
Thanks for reading my Friends Newsletter.
My book launch is in 2 weeks! FINALLY, after 5 years working on it. I think it will help you make new friends or build your network in a very authentic way.
Book experts tell me that I am supposed to create a "launch team" to help me get Amazon and GoodReads reviews during that first week. So: if you'd be willing to read my book early and then write an honest review on Amazon, email me back now for an advanced digital copy.
That's all for now!! I hope you have a great week!!
🤠 Nick Gray
​